E-courses about color
Tap the power of color in these online courses from Jill Morton, the author of Color Matters.

The Psychology of Color Symbolism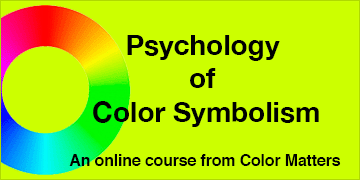 Do you want to use color to its fullest potential? If you need the most comprehensive and objective information about color symbolism, this course is for you.
Instead of color confusion, you'll be able to use color confidently with the most up-to-date training in the psychology of color symbolism. And it's taught by a color consultant Jill Morton, whose clients include Fortune 500 companies - and who's also a University professor and the author of 10 books about color.
Learning color has never been easier. The 16 colorful videos illustrate much more than just reading about a color. You'll visually experience colors as part of the learning process instead of having to imagine it. The worksheets and resources are powerful references for your color projects and the quizzes are a fun way to test your knowledge.
"The Psychology of Color Symbolism" course is designed for everyone - for all creative people. It's for anyone who's interested in color and wants to tap the power of color to send the right messages in any area of their life or work.
If you're a design professional looking to add some serious science to your color knowledge and an edge on your competition, this is a must-do course for you.
If you love color, you'll love it even more when you finish this course – and your colors may never be the same.
Enroll now and get immediate access to this self-paced online course.
---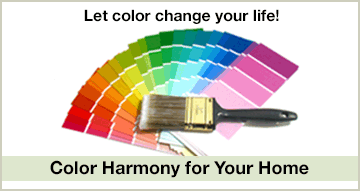 Wave a magic wand and transform your home with colors. This course guides you through a logical sequence of steps for a full makeover of your home or a partial makeover of a room. You'll learn how to use your color intuition AND blend this intuition with interior design research that's backed up by science. The course empowers you with the trade secrets that interior designers use. In a few hours you'll have the confidence to have your first project underway.
Check out the course outline and learn more about "Color Harmony for Your Home" here.
---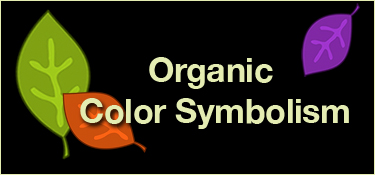 Do you need quick and easy answers for color symbolism?
In this course, you'll learn the most universal symbolism of colors and be able to use it to send the right messages. It's designed for everyone - for all creative people - for anyone who wants to tap the power of color.
Take at your own pace - or complete the course in less than 2 hours.
Some details about what the Organic Color Symbolism course delivers:
"Organic Color Symbolism" will give you the most basic and powerful formula for determining the symbolism of any color.
You'll learn the simple process for analyzing the timeless symbolism of colors.
You'll explore the importance of personal feelings about color - and how to use them for the best results.
"Organic Color Symbolism" will pave the way for you to use color confidently for the most powerful effect in any area of your life.
Enroll now and get immediate access in minutes.
---
Many more E-Courses about color are planned for this year.
Contact us.
Let us know about your interests and any questions.
---
A great resource! Get this eBook from the author of Color Matters