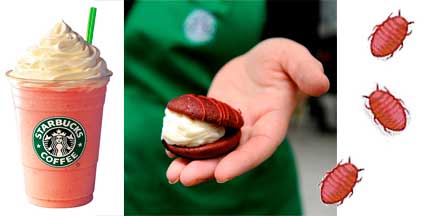 Bug juice "red" made the news when it was exposed as Starbuck's food coloring used in strawberry frapuccinos. After a public outcry – even from non-vegetarians – Starbucks announced it has stopped using it.
This isn't just a vegetarian outrage or the questionable appeal of bug juice in your food - which by the way doesn't bother me because it's a natural alternative to the controversial red food dye #5 derived from coal tar. The real crime is disclosure and deception.
First of all, disclosure: There are moral issues for vegetarian and kosher diets and there are health issues. Natural food colorings such as cochineal (aka "bug juice") and artificial additives such as red dyes #2 and #40 can cause allergic reactions.
Second, the greatest offense is deception: Starbucks advertised its Strawberry Frappuccinos and Smoothies as vegan-friendly.
In the meantime, "cochineal" (the name of the colorant extracted from beetles) and its close relative "carmine" will continue to be used as dye in pies, jello, juices (cranberry and pink grapefruit), dried shrimp, pork sausage, candies, pills, jams, and the brightly colored maraschino cherries.
...