Color & Culture Matters
The symbolism and the history of green are great examples of how the messages and meanings of any color varies and evolves over time.
Giovanni Arnolfini and His Bride

by Jan Van Eyck , 1434

The bride in this Renaissance masterpiece wears green as a symbol of her fertility. She is slouching in imitation of pregnancy, thus indicating her willingness to bear children.

The Evolution of the Symbolism of Green in Western culture

In Celtic myths the Green man was the God of fertility.

Later in the millennium, Early Christians banned green because it had been used in pagan ceremonies.

Nevertheless, as evidenced by Van Eyck's 15th Century wedding portrait, the color green was the best choice for the bride's gown because of its earliest symbolism.
Of note is the continued symbolism attached to the color in the latter part of this century. Anyone who chooses a green m & m (an American candy which contains an assortment of different colored chocolate sweets) is sending a somewhat similar message. Green has been reinterpreted by late 20th century American culture to signify a state of heightened sexuality in this specific situation.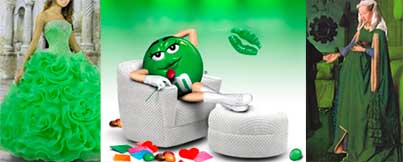 Other bride colors:
White would not be an appropriate color for a wedding in China. It is the color of mourning. If a bride chooses a white wedding gown, her parents would probably not allow her to get married.
In India, even in Christian weddings, while most brides wear white, it is usually relieved by at least a touch of some other color. If a married woman wears unrelieved white in India, she is inviting widowhood and unhappiness.



Other cultural references for green:
Green was a sacred color to the Egyptians representing the hope and joy of Spring.
Green is a sacred color to Muslims.
Japanese Emperor Hirohito's birthday is celebrated as "Green Day" because he loved to garden.
Green trivia:
It is said that green is the most restful color for the human eye.
Some claim that green has great healing power an that it can soothe pain.
Suicides dropped 34% when London's Blackfriar Bridge was painted green.

Universal symbolism:
Nature, freshness

Contemporary symbolism:
Ecologically beneficial


More about the pagan "Green Man"
Does a green ease absent-mindedness?
The Meanings of Colors: Green at Color Matters

You might also be interested in:

What happens when you put angry prisoners in a pink jail cell?
---