How I became a color consultant
I write this for all who have asked the question about how I wound up as a color consultant and for marketing advice.
Color found me.
As I look back on how I became a color consultant, one truth emerges: I didn't choose this profession. Color found me.
With that said, the seeds were planted long ago. As I look back, my childhood was filled with color. My early years were filled with textiles and cartoons. Memories of the samples of fabric from my father's interior design profession, shopping with my grandmother for fabrics in Connecticut – which I sewed into doll clothes. Also, I spent hours drawing colorful cartoons and inventing my own "abstract" alphabet based on hieroglyphic forms. I wanted to be a dancer.
By the time I was a teenager, I wanted to be an artist. My mother made me take Latin instead of art so that I could get into a good college. I did. I was side tracked again when the art classes conflicted with other "more essential" educational classes. I graduated with a degree in Spanish and French. Several years later, I wandered into a "crafts center" and began my real career in art. At first it was making collages and copper enameling that made me feel that creating art was the greatest joy. I went back to college and got a second degree in art and art education at the University of California, Santa Barbara. It took another ten years until I was accepted into the M.F.A. program at the University of Hawaii. I graduated with a degree in painting.
The calling to color – if that's what you may call the pivotal moment – was a year after my master's degree. I was asked to teach a course in color theory at the "School of Architecture" at UH. It began with researching color – and then the world – and my world – changed. Color became much more than an aesthetic component of paintings and design. It was grounded in physics and it had psychological and physiological effects. The more I taught, the more I realized that color was the ultimate creative tool. During this formative time period, I was also teaching color theory for interior design at Chaminade University and basic color theory on other campuses.
Everything changed again when budget cuts eliminated all of the color courses in art departments. I turned to the Internet and began the Color Matters website. My first article was about why blue was not an appetizing color. This marked the beginning of my career as a color consultant. Within one year, I had projects with Kodak and Nokia – who had found me on Color Matters. And that's the key to marketing: Share your expertise with others in your online presence.
Today
Now, 20 years later, Color Matters has expanded to over 100 "pages" of articles about color. In addition to that, I have six online courses about color at Color Matters Online Learning and I've published 11 eBooks about color at Color Voodoo Publications. My color consultation business is at Colorcom.
FAQ - Educational Background
One of the most frequently asked questions is about educational background for color consultation. The answer depends on your area of expertise. If you're an interior designer, you'll be the most successful with ASID accreditation in the US. If you're a scientist, you will need advanced degrees. On the other hand there is no degree in color design or color psychology per se. However, I've published and update lengthy list of accredited institutions that offer courses in color at "Where to Study Color" at Color Matters. Also, there are countless offerings for "unaccredited" courses for color consultants. Some good, some questionable. I highly recommend that you pursue online learning to build on your skills. Accreditation aside, online courses from reputable professionals will enhance your skills – regardless of whether it's from a university or college. Also, any course should provide you with a certificate that you can add to your resume.
Continuing Education
Color never stops evolving and your learning will never stop. I spend many hours a week checking the breaking news about color and researching. For example, I have Google alerts for color, I subscribe to several newsletters, and follow others on Twitter. In addition to that, I spend a lot of time watching TV, streaming content, and movies. Everything from the Olympics to the Bachelor. It's a parade of color and it keeps you in touch with how color is evolving in so many dimensions of our lives and in different cultures.
FAQ - Marketing
Many of you have asked how I market my business. The answer is simple. It's the educational material at Color Matters. This has led to exposure in the media and generated incoming business. For example, a journalist who is writing an article about the color of pills – or colors that calm you in your bedroom – or the symbolism of the color gold – will find me via my online presence and contact me for an interview. This leads to media exposure, which in turn leads to my credibility as a color consultant. Note: The two most common themes are: Everyone wants color to be a magic bullet – a fix for whatever ails them – or the topic of trends. In the first case, I have remained true to "scientific evidence". In the second, I don't do trend forecasting and I have never endorsed trends because they lead to over-consumption during a time when we need to conserve resources on planet earth. However, some trends do reflect the emotional mindset of people and are worth heeding for prescribing for products that don't rely on "timeless" colors.
As for marketing advice, the most powerful tool you have is your color consultation website and your niche. Write at least one educational article about how color works in your specific area for your website. ***Next, do this monthly. Publish it in a blog, a newsletter, or add it to your website. Use SEO (key tags, etc.) wisely. Social media is also great for exposure. You can generate business on Twitter, Instagram, and Facebook business pages (again using SEO/key words). Even if you only have a few followers, it's about quality, not quantity. Webinars and podcasts are other opportunities.
Also, search for people who might interview you about color in your niche. For example radio stations, magazines, newspapers, or websites that are related to your area of expertise. Manufacturers of products that could use your color knowledge are another lead. For example if your specialty is color restoration, contact the suppliers of products used in this industry.
Mistakes, Advice & Challenges
My biggest mistake has been something that has actually kept me afloat in this business. I have an extensive background of projects in branding, product design, user-interface, website design, interior and architectural design. Consequently, during one period of time I may be working colors for a new pharmaceutical product and the colors for the exteriors of townhouses. Shifting gears is not easy. I urge you to find a niche. Build from that and let it take you where it leads you.
The worst advice I ever received happened when I worked with another architectural color consultant. He warned me that I needed at least 5 projects before I had any reliable expertise to work as a color consultant on my own. You do need experience and if you can apprentice with someone, that's very helpful. However, most color consultants aren't in a financial position to pay you. It's a tough business and you're going to have to do it on your own. Act responsibly and don't take a project that is beyond your limits. My mantra is "Energy begets energy".
The biggest challenge for a color consultant is that many large companies who need help with choosing colors have "in-house" designers. In most cases, they have limited background in color and no background in color psychology or the other dimensions of color. Typically, I'll receive an email inquiry from a client who is lost in the process of selecting a color. Also, sometimes it happens that someone high up in the organization has a personal favorite color for the design – and someone is questioning it. My task is to open a dialogue about what I can bring to the project. In truth 90% of my incoming work is via email. And I am always available 24/7 to schedule a phone call.
In summary, it takes dedication and a willingness to go through the "feast or famine" cycles of any self-employment. And that leads to the question about fees for color consultation.
How much to charge?
The answer depends on your geographic area in the world. A color consultant in India will charge differently from someone in the UK. Truthfully, the fees for anyone in the design profession are extremely low and people expect a lot. My best advice is to look at what a plumber would charge - and double that as a starting point. (If you ever have to defend your fees, you can cite that.)
Although I don't work on an hourly fee basis, your work may be different. Typically, I submit a proposal for services (at least one if not two pages) that covers exactly what I will do, the deliverables, terms and conditions and anything else that may apply. After a client reviews it, I make adjustments as needed and submit an "Agreement" to be signed and an invoice for the retainer.
In my case, I have large projects and small projects. There are a lot of small businesses who need help and I offer a "two hour" color consultation" for a fee. Large projects that require a lot of colors and/or documentation will take at least 15 hours.
Tips
Always use an agreement for any project big or small.

Line item everything. What you'll do, how it will apply to them, what the deliverable are, etc. etc.

Get a signature on the agreement and get at least a 33% deposit. No exceptions. I always specify a 50% deposit and that the scope of the work begins upon receipt of the deposit and the balance is due when to color project is completed. You are not a bank.

Never bid against yourself (lower your fee) and know when to say NO. If you don't believe in yourself and your worth as a professional, no one else will.
---
In conclusion, color and light –and specifically the potential of color to heal the body with light – is the one area that fascinates me the most today. Unfortunately, there is insufficient evidence of scientifically supported data in this area but I follow the topic online in many ways. And so I sit and wait for the next generation of the power of color to unfold.
I wish you success in pursuing your passion for color - however that may unfold.
Jill Morton
You can download my portfolio at the link at the bottom this page: https://www.colorcom.com/about/press-room
---
PS. Over the past 4 years I've launched several online courses to help those who are serious about becoming a color professional. "The Psychology of Color Symbolism" and "Foolproof Color Formulas for Interior Design" include the same content of courses I've taught at a university level.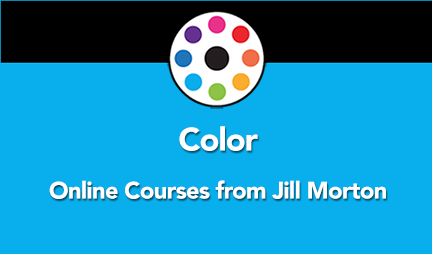 Color Matters Online Learning.